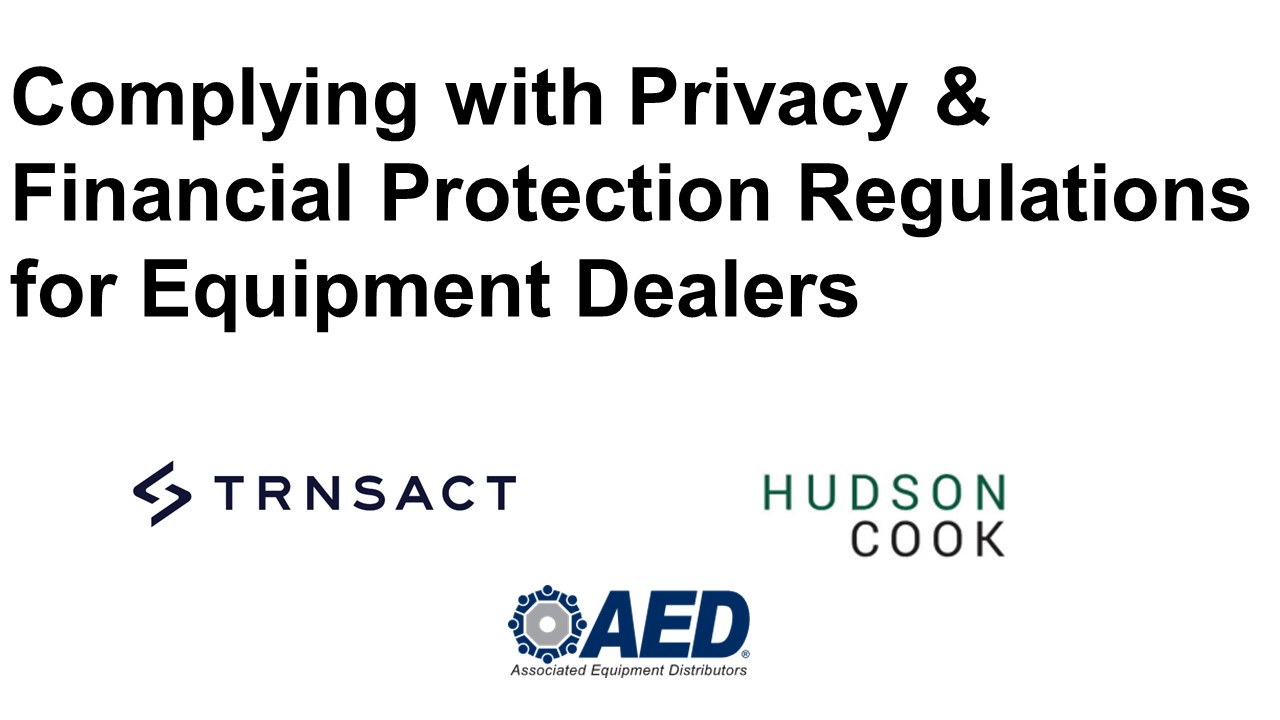 Trnsact is proud to organize and sponsor this live and interactive educational webinar featuring Hudson Cook and hosted by AED.
Description:
The regulatory landscape related to the management of customers' personal and financial information is ever-changing at the federal and state levels. Heavy equipment and truck dealers must comply with mandates that could result in costly audits and hefty fines, including under new revisions to the Gramm-Leach-Bliley Act (GLBA) Privacy and Safeguards Rules and key state regulations. This webinar will explore these issues and address what dealers need to do to stay updated on regulatory and compliance issues.
When: October 20, 2022, 1 p.m. ET / 10 a.m. PT
Moderator/Presenters:
Michael Benoit, chairman, Hudson Cook LLP

Panel of Subject Matter Experts (SMEs) from Hudson Cook

Vijay Patil, COO, Trnsact
This webinar will review:
Dealer compliance: Awareness and accountability

The increasing compliance burdens and challenges

How the compliance landscape changed in the automobile industry and how it is changing for equipment dealers

Summary of regulations that are applicable to the dealership businesses in the heavy equipment and trucking industry

A role technology can play in addressing the compliance issues
Register now and reserve your spot for critical information about the shifting regulatory landscape for commercial trucking and equipment dealers. This webinar is for educational and knowledge-sharing purposes only.
Note: Information with this form is collected by Trnsact for its outreach and educational purposes, and then shared with AED for webinar management purposes.
Register for the Webinar Now